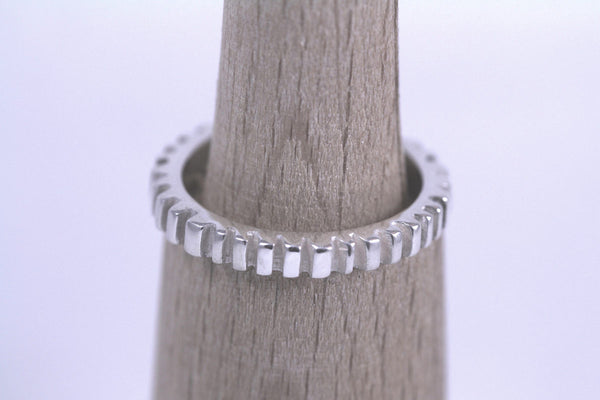 Stackable Makin Tracks Ring
Great for everyday wear. My friends bought a matching set of these to begin a life of travel and adventure together.
This ring measures 3mm in band width and 2.5mm in wall thickness.
Rings sold individually. Prices shown here are based on your selections for size, material and colour (for gold). The price is for one ring. If you'd like to build a stack of two or three please make your selections for each ring individually and click the Add to Cart button. Additional rings for your stack may be added in the same way until your shopping cart lists your choices.
Sizes: Available in sizes 5-8 including half sizes. Other sizes may be custom ordered.
Materials: Sterling Silver (925), 14 Karat or 18 Karat White, Yellow or Rose Gold
Dimensions: 3mm width, 2.5mm thickness